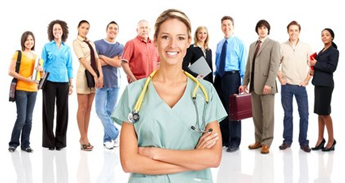 California Group Health Insurance
Health insurance is often one of the biggest considerations a person takes into account when deciding whether to accept an employment offer. Employers – no matter how small or how large – should offer health insurance as part of their compensation package to remain competitive and retain the most qualified employees.
Fortunately for employers, in California group health insurance is extremely competitive. There are dozens of health insurance carriers offering over 300+ health plans, which makes it easier to find plans that best fit your needs as an employer.
You should have a good idea of several things before purchasing group health insurance in California. You must first determine whether you want to offer your employees HMO or PPO health insurance plans or both. When you opt for HMO health insurance plans for your employees, they'll be required to go to providers in the HMO network. Alternately, with a PPO plan, employees can go to providers in or out of the network. Those employees who opt for out-of-network providers will generally pay higher co-pays.
Consider group health insurance plans that offer high deductibles and are HSA compatible. It will cost you less and your employees will also benefit by using pre-tax money to fund a Health Savings Account, or HSA. A HSA is a personal savings account to which both you and your employees can contribute. When an employee has medical bills that aren't covered by the group health plan or before meeting the annual deductible, in most instances, he or she can use the funds in the HSA to pay for those bills. One of the biggest benefits of a HSA is, the unused funds can be rolled over year over year and grow in the account.
Once you know what type of group health insurance plan you want to offer your employees, start researching your options. Again, in California group health insurance is offered by dozens of health insurance carriers. To make your research easier and more effective, make use of a Web site that provides instant quotes. You can get instant quotes from dozens of health insurance companies and compare hundreds of plans side-by-side.
Finally, talk with your accountant or tax professional about the benefits of establishing a group health insurance plan for your employees and contibuting funds towards their Health Savings Accounts.